JUSTIN BIEBER PRESENTEERDE DE RING AAN ZIJN LIEFJE, MODEL HAILEY BALDWINS...
De geliefden kondigden hun besluit begin juli 2018 aan, en de alomtegenwoordige paparazzi merkten een prachtige ovale diamant op die schitterde aan Hayley's ringvinger, waarvoor de bruidegom volgens verschillende schattingen ongeveer een half miljoen dollar betaalde. Het stel stelde hun huwelijk overigens niet uit; Justin en Hayley trouwden slechts enkele maanden na hun verloving. De jongeren vierden hun huwelijk echter pas een jaar later – in september 2019.
Hailey Bieber is een Amerikaans model en de dochter van acteur Stephen Baldwin. Sinds de start van haar modellencarrière in 2014 is ze te zien geweest in vele grote reclamecampagnes en heeft ze verschillende optredens op de catwalk gemaakt.
Iedereen kon op de nieuwe foto's zien dat ze nu drie ringen aan de ringvinger van haar rechterhand heeft!
De eerste is de verlovingsring die Bieber aan zijn vriendin gaf tijdens hun vakantie op de Bahama's. En nu komen er twee nieuwe ringen bij. De ene is een met diamanten bezette gouden trouwring in een traditionele vorm.
Hij kost naar schatting meer dan drieduizend dollar. De tweede is unieker – V-vormig en volledig bedekt met relatief kleine diamanten. Hij kost 2.150 dollar.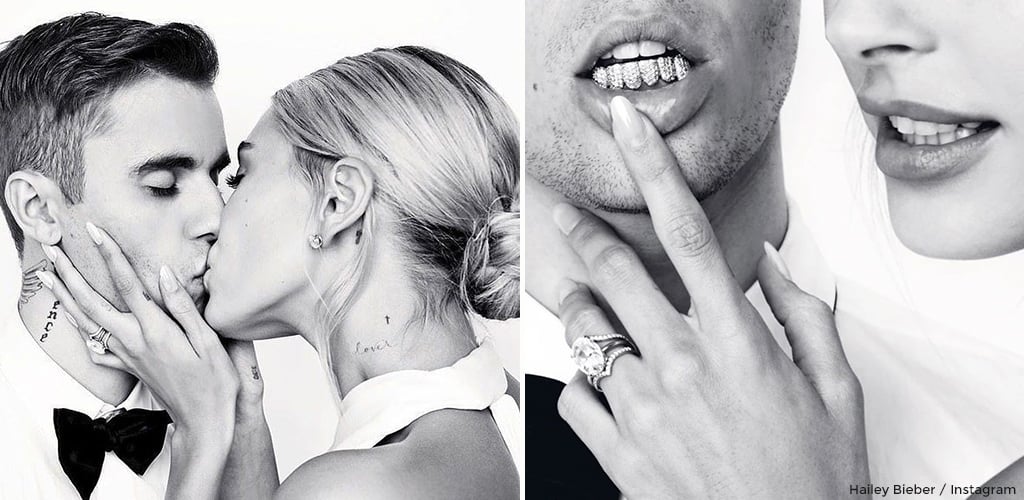 Alle details over de verlovingsring van Hailey Bieber
DE PERFECTE ZETTING EN DE VOORDELEN VAN OVAAL GESLEPEN DIAMANTEN
Een groot voordeel van deze inzetstukken is de afwezigheid van scherpe randen, en dus niet zo kwetsbaar als prinses of markies. Ze zijn perfect bestand tegen dagelijks gebruik, en als ze ook nog eens goed en stevig vastzitten, heb je het perfecte sieraad.
Ovaalvormige diamanten en andere stenen zien er geweldig uit in alle sieraden. Het maakt niet uit of het een solo-zetting is of een deel van een juwelencompositie. Ovaal geslepen diamanten zijn veelzijdig, wat betekent dat ze er in bijna elke zetting goed uitzien. De beste versies hebben meestal vier of zes tanden die de vorm van de steen laten zien.
Prinses Diana droeg het juweel van 1981 tot haar scheiding van Prins Charles, en vandaag siert het de ringvinger van Kate Middleton..
Naast de twee meisjes die we hierboven noemden, dragen of droegen Blake Lively, Ariana Grande, Salma Hayek en Heidi Klum allemaal ovale ringen. Dus als je ovale stenen kiest, ben je in goed gezelschap.
OVAAL GESLEPEN DIAMANTEN VERLOVINGSRINGEN
Ontdek onze selectie van ovaal geslepen diamanten verlovingsringen